LATEST NEWS
Snow Day – Friday 31st January 2019
It was fantastic to see so many of our pupils out playing in the snow building snowmen, snow women, chairs and even a snow dog. Well done to all pupils for their creativity and hard work.
Year 2 Indoor Athletics
On Tuesday 5th February some Year 2 pupils represented Yewtree at the Year 2 Indoor Athletics Championships 2019 at The Laureate Academy. They took part in a variety of athletics events such as, relay racing, jumping, javelin throwing and speed bouncing. All pupils did fantastically well and we can't wait to find out the final results.
Year Two Sports Fayre
On Thursday 24th January all pupils in Year 2 went down to Hemel Leisure Centre in Hemel Hempstead to take part in lots of different sporting activities against other schools. There was giant speedstacking, dance, fitness, hockey, golf and event an assault cause where pupils were training like the army. All pupils had a fantastic time and can't wait for the next sporting competition.
Year 4 Morpurgo Class Assembly
This week saw year 4 take the stage to show off their learning they have been doing in this week's class assembly. Pupils showed us some fantastic work and taught us some very important lessons.
In the art lesson we learned that primary colours (red, yellow and blue) can't be created by mixing colours. If you mix red and blue you make purple and yellow and red make orange.
Four Morpurgo taught us that a cell in an electricity circuit it also known as a battery. Michael's top tip was "never poke anything into a plug socket".
As well as showing off their fantastic art work, neatly presented books and beautifully blended colouring skills pupils also taught us a very important message.
'Stop bullying and lets be friends"

Maths Week 2019
We are Codebreakers
The week commencing Monday 7th January was maths week. Under the title 'We Are Codebreakers', the whole school engaged in activities that enabled them to apply their problem solving skills. There were opportunities for children to build upon their reasoning skills and develop their ability to work in a collaborative manner.
On the Monday afternoon, each key stage 1 class paired up with a key stage 2 class. During this time, the older children coached their younger peers through a selection of challenges – in the style of an 'Escape Room'! The older children benefitted from explaining mathematical concepts to the younger children. This style of learning proved to be engaging for the younger children as it allowed them to learn from older role models and not just be led by their teachers. Many children have requested that we seek for more opportunities to work in this way.
Many classes allowed children to take on the role of code creators by giving the children a chance to make their own cryptic puzzles. These tasks were then enjoyed by parents and family members during our open classroom on Monday 14th January.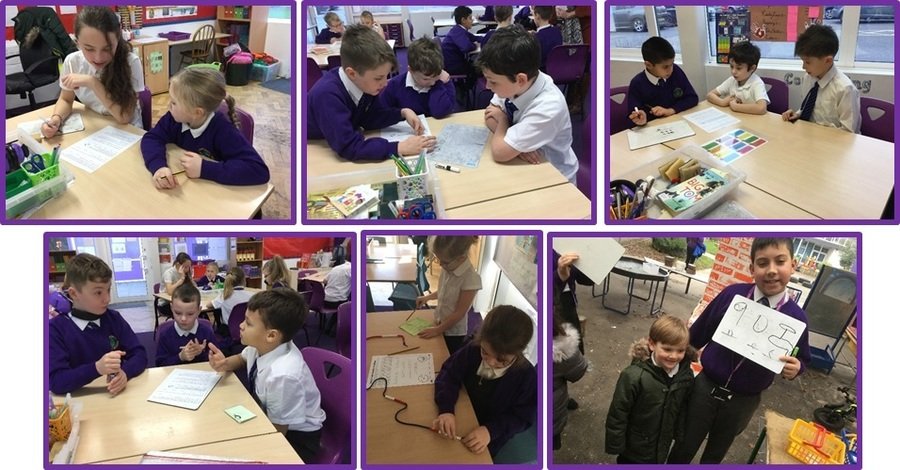 Celebrating Christmas
Recently we have been celebrating Christmas in school and the local community in lots of different ways. Our Foundation Key Stage helped us to celebrate the birthday of Jesus in their Christmas Performance 'Happy Birthday Jesus'. We all came together at St Marys Church, Hemel Hempstead where we sang our Christmas carols with our families. Our school choir have been visiting local retirement homes where they have sung carols, joined in with Christmas party games and even enjoyed a small Christmas performance.
Merry Christmas!

Armistice Day Celebrations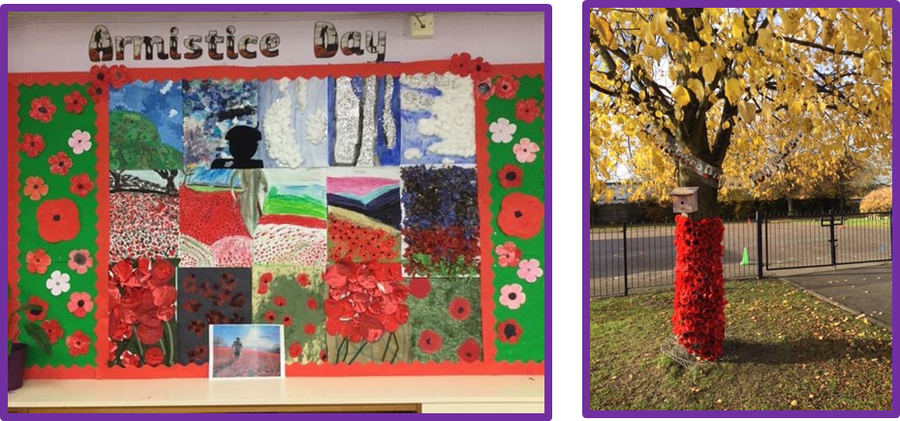 Mistletoe Fair
Here at Yewtree we held our annual Mistletoe Fair, the children were very excited to meet father Christmas and enjoyed lots of festive games and prizes.
We are especially proud of our Pupil Representatives who worked very hard after school to prepare and present a fantastic stall, they raised £235.00 on their stall alone.
Overall we raised over £1,000. Many thanks to those who supported us and the parent helpers who were here on the day too.

Year 2 Fire Station Visit
Year 2 enjoyed their visit to Hemel Hempstead Fire Station to learn more about the developments in fire fighting since the Great Fire of London in 1666. The Crew were all very welcoming and informative when showing the children the modern day equipment held within the fire engine, every child took a turn shooting the water hose and saw thermal imaging within the smoke tower to see how they find people when it is so dark in a fire.
Crew Commander Phil also discussed how to stay safe in a fire:
If a fire starts in your home...
Raise the alarm.
Get out.
Get others out, if you can safely. Leave pets, they will escape by themselves.
Call the fire service on 999 or 112.
Stay out – don't go back in for anything.

Latest Yewtree Primary School Events
Half Term Break

18

Feb

2019
Back to School - 8.45am

25

Feb

2019
Year 3 Ahlberg Class Assembly - 9.00am

05

Mar

2019
WORLD BOOK DAY

07

Mar

2019
Parent Workshop - Transition, 9am St Paul's Church

12

Mar

2019